Alchemic Cutie
Hey there Cutie Club! It's been a busy week for us. Not only did we publish our first JellyCast episode but we've been hard at work expanding and improving our game content.

A Travelling Salesman appears…
Sebastien has been drafting some sprites for our travelling salesman 'Skeezer'. He'll be found wandering Wimba Island with many items to sell and is always looking for a bargain on rare and mysterious items.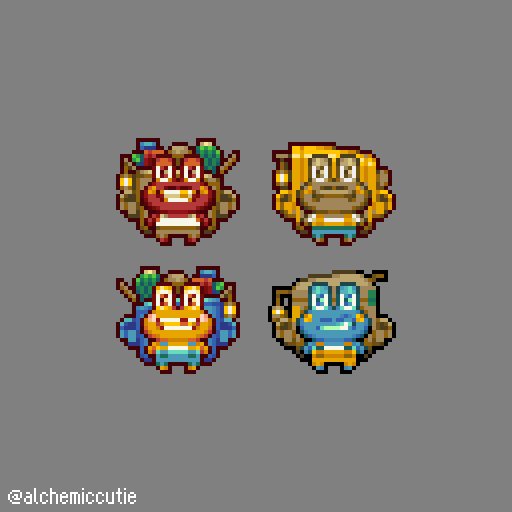 A lot of Item Effects…
On top of this, we've been expanding all possible Item Effects in-game. There are now over 47 possible item effects types ranging from stat and trait effects to visual effects. So if a Jelly is not your favourite color you can find an item that has a dye effect!
These effect types allow for a lot of item possibilities and can also be used by modders when adding their own items. Balancing will be tricky but the flexibility will allow for some interesting items.
What's next…
Next week we're going to review all the items in the demo area to add some of these new item effects to them. We've still got a lot of work to do around the game items but when we get the balancing right it'll make the game demo even more fun
P.S. If you haven't signed up to the Cutie Club yet, you can do so here. You can also follows us on our official Facebook, Imgur and YouTube pages.